Expert Electronics MB1 Transceiver "Prime" HF 100W, 6M 50W, VHF 50W – ΠΛΗΡΩΜΗ ΑΠΟ 3 ΕΩΣ 60 ΔΟΣΕΙΣ ΧΩΡΙΣ ΠΙΣΤΩΤΙΚΗ ΚΑΡΤΑ!!!
The MB1 transceiver is a game-changer, it's a transceiver and a PC in a single package. It has a classic design, developed over several decades, with the most advanced DUC/DDC SDR technologies – Direct Down Conversion (DDC) and Direct Up Conversion (DUC) and a fully-featured high-end personal computer with an Intel Core i5 processor onboard.

MB1 Prime 2021, its main advantages in comparison to previous MB1 Prime model:
1. New PC hardware:
Motherboard – GA-IMB310TN instead of MDH11HI
CPU – Intel® Core™ i7-9700 instead of Intel® Core™ i7-7700T
RAM – 16 GB DDR4 instead of 16 GB DDR3
SSD – Samsung 970 EVO 500 GB instead of generic SSD
2. Improved TX IMD3 up to ~37 dB across all HF bands, with 100W output power
Features of the transceiver
Independent RX path based on DDC (Direct Down-Conversion) architecture
Independent TX path based on DUC (Direct Up-Conversion) architecture
2 software RXs + SubRX for each of them (4 slices total) + independent wideband Bandscope up to 80 MHz
ExpertSDR2 software in two styles: Desktop style and MB1 display (for integrated GUI)
Remote control operation, using it, you connect PTT and CW-key to the E-Coder panel. Microphone and E-Coder are connected to the remotely set up PC
TCI interface for seamless connection with third-party software, the list of software with TCI support
Professional TX processing module provides the most advanced tuning capability for voice operation
High-quality IPS 7″ touchscreen display with a 1280×800 resolution
Supports any software applicable for Windows 10 OS
ExtCtrl connector to control external devices with 8 powerful keys with open collector
COM-port for connection of external devices, like PA, antenna switches etc.
ALC connector for external power amplifiers*
Has a special XVTR connector for VHF transverters** (SMA connector)
4 separate programmable PTT outputs for external power amplifiers
An opportunity to use the transceiver as a signal generator via DAC OUT connector (SMA connector)
An opportunity to use external filters in the middle of the RF path, using RX IN and RX OUT (SMA connector)
Monitoring delay in CW mode is about 5-6 ms
Input for external 10 MHz reference oscillator
An opportunity to use the transceiver in SO2V mode
Full duplex or half duplex modes***
4 HF (UHF (SO-239) connector) and 2 VHF (N-type connector) antenna connectors
Internal power-meter for HF and VHF bands and SWR-meter for HF band
Record and play on air fragments (IQ files) with a bandwidth of up to 312 kHz
Internal ATU (Automatic Tuner Unit)
The embedded power supply unit
* ** *** These functions are supported by the transceiver's hardware, but is not implemented in the ExpertSDR2 software. They will be supported in the future ExpertSDR2 software releases.
PC capabilities of the transceiver
Installation of digital modes software
Installation of HAM and Contest logs
Two CW Skimmers may be used on different bands
The transceiver can connect to the LAN and the Internet
Use of Internet applications (e.g. e-mail, Skype, ICQ, TV, etc.)
Play video and audio files
Watch TV via USB-receivers
An opportunity to connect two external displays, keyboard, mouse
An opportunity to connect external speakers to the PHONES jack on the front panel
Application area
Full-function radio amateur transceiver
Mobile contest-station
Remote receipt point for the contests and other applications
Spectrum analyzer with the bandwidth up to 80MHz
Work with the external programs of digital connection types, CW Skimmer, etc.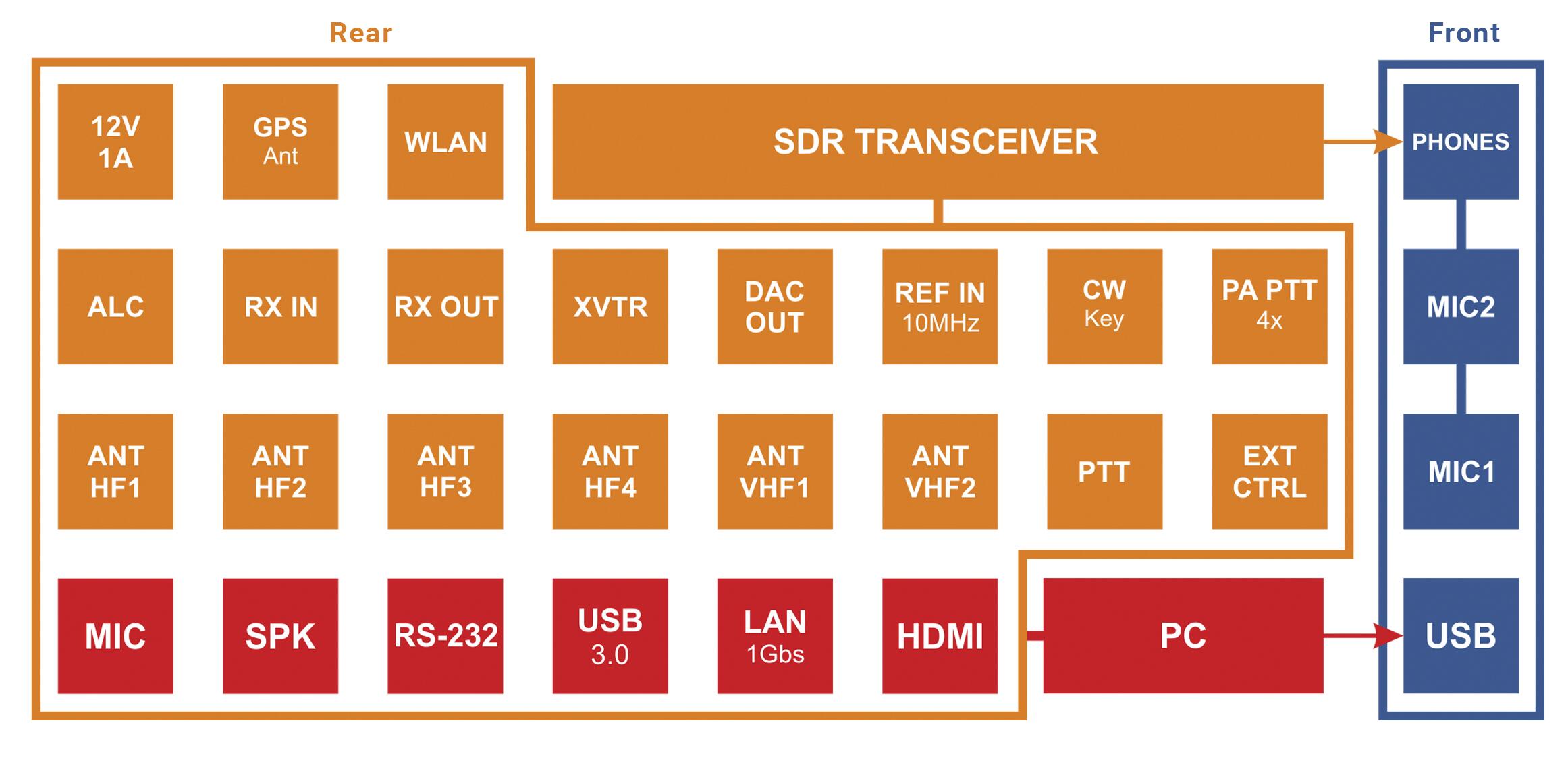 Software
A version of ExpertSDR2 software with adapted GUI for 7″ display was specially developed for the MB1 transceiver. At the present time software works in RX/TX mode and supports two independent receiving channels with the bandwidth up to 312 kHz. A DSP library developed by company Expert Electronics allowed improvement of receiving quality and higher the stability of the software.
MB1+ATU supplied accessories
PTT-microphone MD15
Power Supply Cable to connect the transceiver to an AC mains network
Backup fuse 5A
Additional accessories:
E-Coder Plus or E-Coder control panels for comfortable remote operation
HPF for VHF
Specifications
RF ADC, bit @ MHz: 16 @ 160
ADC type: LTC2209
RX Frequency range, MHz: 0.1…65; 95…155
Independent software receivers: 2 + 2 SubRX
Sample rate, kHz @ bit: 39; 78; 156; 312 @ 24
Bandscope, MHz: 80
RX HF filters, MHz: LPF: 65 or 9 x BPF
RX VHF filters, MHz: WideRX: 95-155 or SAW filter for 2M: 144-148
BDR on HF, dB: 130
BDR on VHF, dB: 114*
Sensitivity, uV: 0.2
DR IMD3, not less dB: 98
RMDR, dB: 110
ATT/Preamp, dB: -20; -10; 0; +10
VHF LNA, dB: +22
RF DAC, bit @ MHz: 14 @ 640
TX Frequency range, M: All amateur bands 160-6; 2
Output power on HF, W: 100
Output power on 6M, W: 50 (up to 60)
Output power on VHF, W: 50
TX IMD3, dB: 25-30 on HF/VHF
Local oscillator TCXO, MHz +/- ppm: 20 +/- 0.5
External 10 MHz oscillator input: +
Built-in audio codec, bit: 24
RF input/output: 4HF (SO 239)
2VHF (N-type)
1XVTR, ADC IN, DAC OUT (SMA)
Built-in PC: Windows 10 OS
CPU: i5-6400T, (Prime: i7-6700T);
RAM: 8 GB, (Prime: 16 GB);
SSD: 120 GB, (Prime: 500 GB);
IPS 7″ 1280×800 touchscreen display
AC voltage range, V, Hz: ~100…240; 50…60
Power consumption RX/TX, W: 320
Operating temperature, °C/°F: 0…+50/ +32…+122
Dimensions L x W x H, cm/inches: 2.5 x 28.5 x 15.0/ 12.6 x 9.84 x 5.51
Weight, kg/lbs: 9.3/ 22
Specifications are subject to change without notice or obligation and specifications are only guaranteed within the amateur radio bands.