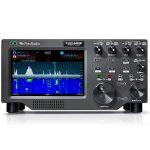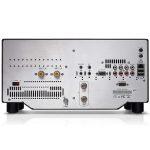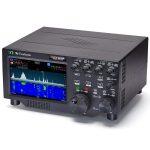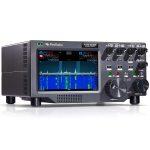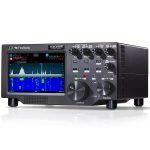 FlexRadio FLEX-6400M ATU ME ANTENNA TUNER-SDR Transceiver – ΠΛΗΡΩΜΗ ΑΠΟ 3 ΕΩΣ 60 ΔΟΣΕΙΣ ΧΩΡΙΣ ΠΙΣΤΩΤΙΚΗ ΚΑΡΤΑ!!!
The FLEX-6400M ATU integrates all FLEX-6400 capabilities with a stunning 8-inch 1920 x 1200 IPS WUXGA touchscreen display and ergonomic controls to deliver a high-performance Software Defined Radio with a traditional radio interface. It delivers unmatched band awareness from an integrated display while providing an external connection for an HDMI compatible 1920 x 1200 resolution monitor for maximum spectral visibility. Influenced by top contest/DX operators, its symmetrical and independent dual VFO controls are strategically placed to provide maximum productivity for all types of operation. It's completely self-contained so just plug it in and operate — no PC, network, or learning curve required.
The FLEX-6400M offers the latest direct sampling SDR technology at an economical price for the general HF/6m operator yet it offers great performance for chasing DX and contesting.
With a PC, laptop, or Mac client you can utilize up to two 7 MHz spectrum/waterfall displays and independent receivers to revolutionize your view of the bands. Its two receivers can be placed simultaneously on any band and mode with instant QSY between VFOs. Digital mode operation is a dream with no sound cards, cables, or boxes needed.
FlexRadio's industry-leading SmartSDR™ software offers compatibility across the entire FLEX-6000 Signature Series family to deliver continuous leveraged software enhancement. And you can use the latest SmartLink™ technology to access your radio virtually anywhere from any SmartSDR compatible client with only a login and password — even your iPhone.
* Mac OSX SmartSDR software is provided by third-party vendors*
Features
100W PEP HF-6m operation
All modes/all bands
Integrated Remote Operation with Maestro, PC/ Laptop, Mac, iPad® or iPhone®
2 Independent Band / Mode Receivers
Full Duplex Cross-Band Operation
Transverter Port
Receive-Only Port
Direct Sampling SDR 122.88 Msps – 16 bit
115 dB 2kHz RMDR
>155 dB Dynamic Range
Optional Antenna Tuner
10 MHz Reference Input
Optional GPSDO Option for ultra high frequency precision and accuracy
Optional MARS/CAP/SHARES TX Expansion Module
All-in-One SDR includes all the features of the FLEX-6400 plus
Spectacular 8-Inch, 1920 X 1200 IPS Integrated Display
Touch Tune, Zoom, Pan Controls At Your Fingertips
Ergonomically Optimized Controls With Full Dual VFO
Up To 7MHz Spectrum / Waterfall Bandwidth
Real-Time Spectrum / Waterfall
External Display Output – Full 1920 X 1200 Resolution
Internal Speaker
Full Specifications
Receiver
Independent Band/Mode Receivers (Max): 2
1/2 kHz Reciprocal Mixing Dynamic Range (RMDR): 110/115 dB
ADC Bits/Sampling Rate: 16/122.88 Msps
Frequency Coverage: 30 kHz-54 MHz
Amateur Band Preselectors: 3rd Order
Cable-less Digital Audio (DAX/DAX IQ) Channels: 2/2
Receive Only Ports (Base/Including XVTR Port): 1/2
Full Duplex RX/TX Operation
Spectrum/Waterfall
Internal Touch Panel Display Size Diagonal: 8-inch (6400M)
Integrated Display Resolution: 1920×1200 (6400M)
External Display Resolution/Connection: 1920×1200/HDMI (6400M)
Spectrum/Waterfall Displays (Max): 2
Spectrum/Waterfall BW (Min/Max): 5 kHz to 7MHz
Spectrum Dynamic Range (Max Zoom In): >145 dB
Spectrum Resolution Bandwidth (Min): 5.85 Hz/px
Transmitter
160m-6m Transmitter Output: 1-100W(25W AM)
Harmonic Suppression (Typ): < -60 dBc
Transverter Ports: 1
Transverter Frequency Coverage/Power: 100 kHz – 54 MHz/0 to +10 dBm
Optional Integrated Automatic Antenna Tuner Range: 3:1 SWR
Optional Continuous MARS/CAP Coverage with Extended Transmit Filter
General
Modes1 SSB, CW, AM, SAM, FM, RTTY, DIGITAL
Integrated Remote Operation (SmartLink)
Maestro, PC, Mac, iPhone, & iPad Client Options
Internal Speaker/Power 2W Class D (6400M)
Frequency Stability (0C – 50C) 0.5ppm (TCXO)
GPS Disciplined Oscillator Optional 5 x 10-12 Over 24 Hours
External 10MHz Reference Input
Power Supply Requirements 13.8 VCDC +/- 15% (14 VDC Nom)
Dimensions 6.74″H (17.1 cm) x 14″W (35.6 cm) x 13.25″D (33.7 cm)
Simply Beautiful
No PC required to operate the FLEX-6400M
8 inch 1920 x 1200 IPS Display
Up to two independent receivers
Up to two 7MHz spectrum displays
Optimized workflow
Ergonomically spaced / single-function controls
Plug & Play Remote**
No complex setup required
Operate anywhere, any time
Use a Maestro, Mac, iPad, iPhone or Laptop
Across the country or across the world
Anywhere, Anytime, From Any Of These Devices:
With SmartLink and a FLEX-6400M, you can operate your radio from almost anywhere! Just take an iPhone, iPad, Laptop, or Maestro with you and instantly connect to your radio with virtually no setup required.
Best in Class Performance
115db RMDR
No listening fatigue
Ultra-Low Phase Noise
Full Break-in QSK CW
Brick Wall Filters
Stunning transmit audio
Backed by an Amazing Suite of Software
SmartSDR for the M Model Radio
SmartSDR for Windows
SmartSDR for Mac
SmartSDR for iOS
SmartSDR CAT
DAX
*A PC is required for use of 3rd party software such as loggers and digital modes programs.
**SmartLink Remote Requires SmartSDR V2.x License or Later. Requires an Internet connection.