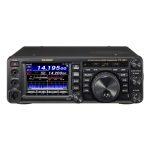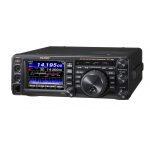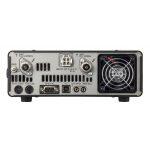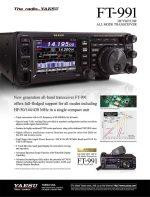 The FT-991 is the next generation in all mode, all band MF/HF/VHF/UHF transceiver with C4FM (System Fusion) Digital capability. The New FT-991 now includes a high-resolution full color 3.5″ TFT Touch panel for superior operability and visibility, incorporating a High Speed Spectrum scope with ASC (Automatic Spectrum-scope control) built right in.
ΣΥΧΝΟΤΗΤΕΣ ΕΚΠΟΜΠΗΣ                          
1.8 – 30 MHZ
50 – 54 MHZ
144 – 146 MHZ
430 – 440 MHZ
Specifications:
The FT-991 could not provide functions easier than at your fingertips with a 3.5″ Full Color TFT Display for Superior Operability and Visibility.
100 Watts of Solid Performance
The RF Amplifier in the FT-991 provides a clean and solid 100 Watts of Operating Power (50 Watts VHF/UHF) and is combined with a large heat-sink and forced air automatic cooling fan to increase operating time and prevent overheating.
Compact, Lightweight & Portable
The FT-991 Comes in a compact, lightweight package suitable for portable, mobile and base installations. Measuring 8.8″(W) x 3″ (H) x 9.9″ (L) at just 9.7 pounds this robust full featured mobile/portable radio is ready to go when and where you are!
Internal Automatic Antenna Tuner
Internal High Speed Automatic Antenna Tuner included in the package. The antenna tuner uses a LC switching network that has a large capacity 100 channel memory. The tuning data is automatically memorized to reduce tuning time when changing frequency.
+/-0.5PPM High Resolution DDS/PLL local Oscillator included as part of the standard package.
The FT-991 can be connected to a computer using a USB cable for CAT control and firmware updates, or the use of an optional SCU-17 Interface Unit to support USB Audio In/Out, TX Control (PTT, Key, Shift).
The FT-991 includes multi-mode operation on CW, AM, FM, SSB, and Digital Modes (Packet, PSK31, RTTY and C4FM), with 100 Watts of HF Capability (50 Watts VHF/UHF).
ΣΥΧΝΟΤΗΤΕΣ ΛΗΨΗΣ
0.03 – 56 MHZ
118 – 164 MHZ
420 – 470 MHZ